Find North Carolina golf courses by using the Golfing the Carolinas online golf course directory. Visit other NC mountain golf courses in this section. NC offers some of the most scenic mountain courses in the U.S.
The beautiful, semi private, member owned mountain golf course boasts 18 challenging holes of tree lined fairways, manicured greens, and several streams and ponds. The course layout follows the natural contours of the land, which creates a perfect setting for a challenging golf course with exhilarating views. Two distinct nines test all aspects of a player's game. Narrow tree-lined fairways require accuracy on both nines, but especially on holes 10 through 18. The fast, gently contoured greens require a keen eye and soft putting stroke.

Several different types of individual and family memberships are available for your convenience. There is sure to be one that meets your needs!

Scheduled activities for men and women provide opportunities to play and socialize. The Golf Committee coordinates a Golf Clinic to encourage "newbies" to learn the game of golf.

Not only does Linville Land Harbor have its own challenging 18-hole mountain golf course, Linville Land Harbor is close to many other beautiful golf courses. With close proximity to courses in Boone, Banner Elk, and the surrounding towns, there's no better place to purchase Linville North Carolina Real Estate. The lots and properties at Linville Land Harbor are some of the most stunning Luxury Golf Course Real Estate listings you will find!! This is North Carolina Golf at its finest!

For one low yearly fee, members enjoy unlimited golf year-round and daily green fees are also available. Most resident golfers own their own golf carts. A well stocked golf shop offers moderately priced golf apparel and various golf items. Many Land Harbor Logo items are available that even the non - golfer would enjoy wearing. If you have any golf questions, please contact us at 828-733-8325.
Course Information
• Year Opened - 1972
• Number of Holes - 18
• Par for Course - Men 71/Women 69

Course Stats
• Course Maximum Length - 4877 yards
• From White Tees - 4877 yards
• From Red Tees - 4243 yards
• From Gold Tees - 3780 yards
Linville Land Harbor Golf Club

1665 Goose Hollow Road - Newland, NC 28657 - 828.733.8325
www.linvillelandharborgolf.com
Pro Shop
The Pro Shop at the Linville Land Harbor Golf Club boasts the latest equipment the industry has to offer. We are open to the public and carry the top brands for all of your recreational needs. We carry Golf, Tennis, Pickleball & Fishing equipment. Top brands include Under Armour, Columbia, Bermuda Sands, Titleist, Wilson Staff, Tervis, Callaway & Srixon. Be sure to stop by our Pro Shop before you head out for all your fun and adventure this season.

Shop Phone: 828-733-8325
Shop Hours: 8:00 AM - 5:00 PM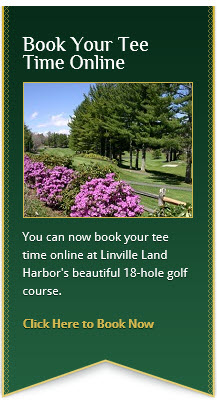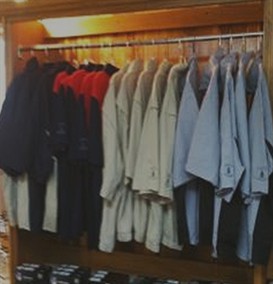 Practice Facilities
Stop by the hitting bay, located by our putting green before you head out on the course. A pre-round warm up will help you focus on your game and get into the swing that you need to play your best round. Get a feel for the course on our putting green and practice bunker before you hit the course. You can also stop by after work to unwind and enjoy the gorgeous scenery while you hit a few balls.

Facility Phone: 828-733-8325
Facility Hours: 8:00 AM - 5:00 PM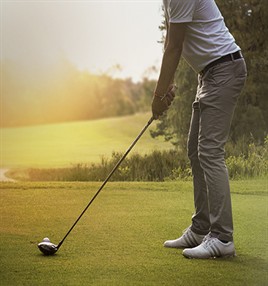 Golf Club Rentals
Linville Land Harbor Golf Shop rents golf clubs for use on the Golf Course. We cannot guarantee golf clubs to be available as the Pro Shop has limited sets for rental. In order to rent clubs, you will need to sign a rental release form and leave a credit card with the form. Please arrive 20 minutes prior to your tee time to fill out the rental paperwork and pay for your green fees. We stop renting all golf clubs for 18 holes 4.5 hours prior to sunset and rentals for 9 holes at 4:45pm. If you have additional questions, please call the Golf Shop at 828-733-8325.

The Patio Grill
Stop by our newly built addition next to Hole #9 for a quick bite to eat or drink. Spend time with friends or family on the screened in deck while enjoying the surroundings of the golf course. The Patio Grill will be open for both breakfast & lunch during the operational season (May - October).

Open May - October
Hours
7:30 AM - 3:30 PM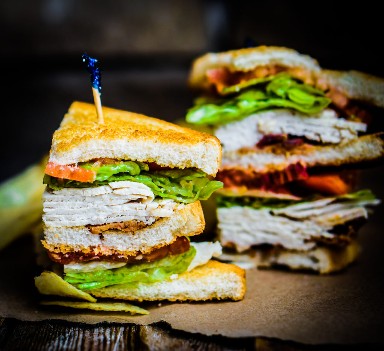 Linville Land Harbor Golf Club

1665 Goose Hollow Road
Newland, NC 28657
828.733.8325
www.linvillelandharborgolf.com

CLICK HERE BOOK A TEE TIME!