For Advertising Opportunities
Contact:
Golfing The Carolinas
C/O The Snyder Group
357 Cornwallis Drive
Mocksville, NC 27028
336.769.8855

JohnSnyder@TheSnyderGroup.net
A Web Publication of The Snyder Group
MacKay

Par: 36
Architect: Tim Cate
Total Yardage: 3,547


The Pot Of Gold Is At Mountain Aire Golf Club
The Pot Of Gold Is At Mountain Aire Golf Club
1396 Fairway Ridge Drive • West Jefferson, NC 28694 • 336.877.4716

www.mountainaire.com
Located in West Jefferson and nestled in the heart of the Blue Ridge, Mountain Aire is an established, public course offering 18 holes of well-maintained fairways, complimented by the natural, rugged beauty of the Appalachians. We are located just 30 minutes from Boone. In addition to offering a challenging round of mountain golf, Mountain Aire also "plays" the backdrop for a beautiful golf community called Fairway Ridge.

Whether you are interested in a fun round of golf or looking for spectacular views of the golf course and surrounding mountains from a NC golf course home, homesite, or town home, we invite you to browse our website for more information or follow us on facebook.
Mountain Aire Golf Club features a course of moderate length that can be enjoyed by players of different skill levels with its four sets of tees. The blue course plays to a length of 6,415 yards, a modest length by today's standards, but the course record of 64 indicates that the course defends itself well against par. We recommend the blue course for accomplished players with a handicap of less than 10. The white course measures 5,858 yards, and while the course record is 62, the white course gives most men all they can handle. The gold course is 4,852 yards and is just right for juniors, seniors and ladies who need a little more length than the red tees provide. The red course is played by most ladies and measures 4,140 yards. It is not as long as many ladies courses and can be enjoyed by ladies of all skill levels. The ladies course record is 65.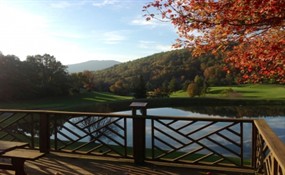 The Course
Mountain Aire Golf Club offers exceptional practice facilities that will allow golfers to warm up before their round or sharpen their skills throughout the season. We offer a full distance driving range as well as a practice green with a sand bunker to help you build confidence in every area of your game. These facilities are open during our regular golf course hours of operation.

Mountain Aire also has a 2-hole junior course that can be used to teach your future golfers the game of golf at no cost to you. These holes are available to young people ages 17 & under during regular business hours. Children should be supervised by an adult at all times. We encourage you to bring your young family members out and show them how much fun they can have playing golf. If you or someone you know is interested, please contact the pro shop at 336-877-4716 for information about the junior course.

Practice Facilities
The golf shop at Mountain Aire is staffed by friendly, helpful, knowledgeable people who want to help you enjoy your golf outing. Our shop has a variety of apparel, shoes, logoed merchandise, golf clubs, golf balls, and much more. Let us help you with your selection of merchandise.

Mountain Aire is a member of the Carolinas Golf Association.You can join our association for only $20 per year and this will give you membership access to the GHIN Handicap system. Your handicap will be certified by the CGA and will be accepted wherever you go to play.

Mountain Aire hosts several tournaments throughout the year. Keep up with them by visiting our website often.

Pro Shop

1396 Fairway Ridge Drive
West Jefferson, NC 28694
336.877.4716

www.mountainaire.com
The Pot Of Gold Is At Mountain Aire Golf Club